Do you think you have what it takes to go all the way in the NRF Foundation Student Challenge like this winning team who's product idea took them to HSN, the television shopping network? Or, these two teams profiled by NBC 5 Chicago news? Here's how the process took place this past year.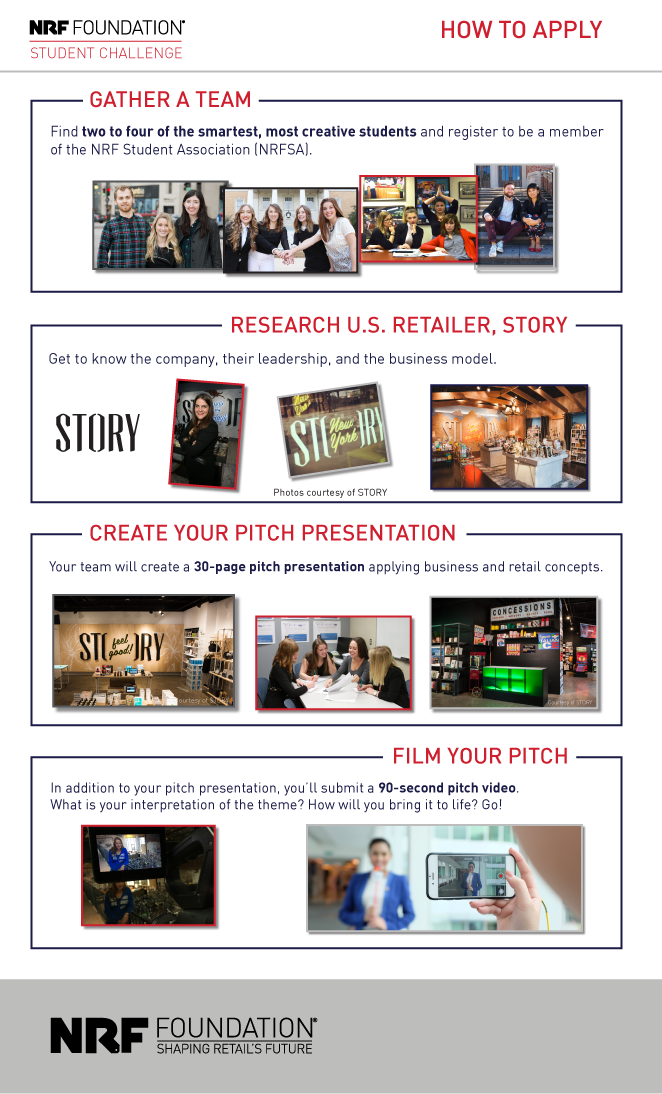 Challenge Timeline
Key dates on the road to the 2019 Student Program.

April: Gather your team together and start thinking about which sponsor you want to choose. Talk with your advisor about how to get selected as the team to represent your school.
May 1: Soft deadline for schools to notify us regarding their participation by emailing soudry-maurera@nrf.com. Schools can still join after this date, but are not guaranteed a KPMG mentor. 
September 23: Deadline for advisors to submit pitch presentations and pitch videos. Two teams can apply per school!
October 18: We'll announce the semi-finalists who have made it through to the second round. All teams will receive their overall score and feedback on their proposal. Semi-finalists will have a chance to revise their pitch presentations and pitch videos based on feedback from round one judges.
November 4: Revised pitch presentations and pitch videos due.
November 14-16: During this week, each Round 2 team will take part in a teleconference Q&A session with judges, who will ask questions about their pitch presentations.
November 21: We'll announce which three teams have made it to the final. Pack your bags! You're coming to New York (and we're paying for your tickets!). Teams will have a final chance to revise their pitch presentations and videos.
January 3: Revised pitch presentations and pitch videos due.
January 10: The final three teams pitch live to a panel of retail executives at Retail's BIG Show in New York City.
January 13: The top team will be announced at the NRF Foundation Gala.
Judging Criteria
How your submission will be scored.

Your Submission
Your team must submit a pitch presentation and pitch video; there are formatting and content requirements for entry materials. Please review the 2019 requirements for specific details. 
Round One
During the first round of judging, your pitch presentation and pitch video will be evaluated for content, presentation and delivery. Check out the scoring breakdown in the Official Rules.
Semi-Final and Final Rounds
The judging criteria vary for the final two rounds. Teams who advance beyond round one will receive the judging criteria for the next round via email. Please review the Official Rules for specific details.